Behold: Jameson House
Created by a cast of real estate all stars, Jameson House was developed by BOSA Properties and designed by Fosters + Partners in association with Walter Francl Architecture Inc.
This 36 story, 119 meter tall building certainly adds an unique flavour to Vancouver's skyline.
Everytime I pass by this building I've always felt there was something different and frankly, "off".
And now i know why.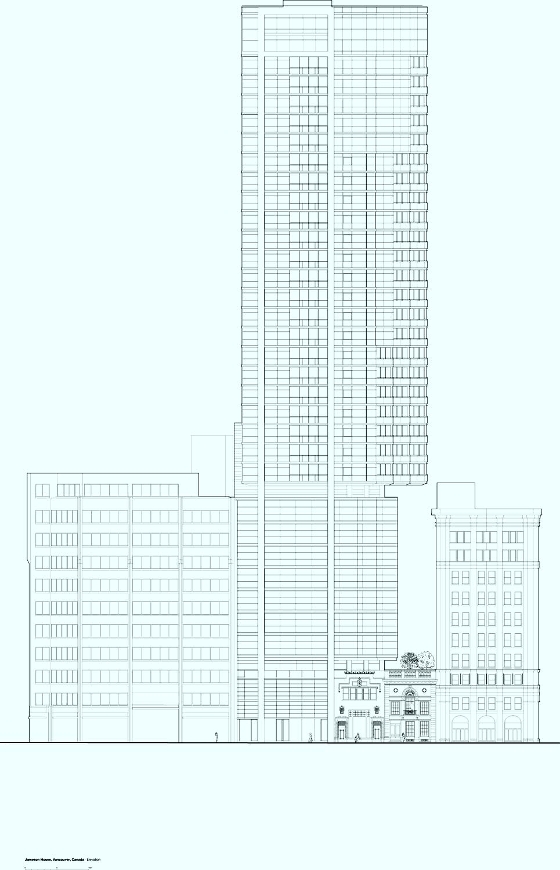 Notice the design of the building's first two floors. The professionals' say it best;
"The first two stories of the structure correspond to the adjacent 1920s Art Deco buildings—the Ceperley Rounsfell Building and the Royal Building—and the scale of the pedestrian street level. The original buildings, which had fallen into disrepair, were restored and incorporated into the ground floor plan of the new tower development. The historical section of the podium houses new retail, while the new development creates entrances for the office and residential areas in the tower."1
But that's not all,
"Eight levels of offices extend above in a sleek rectilinear glazed cube, the top level of which corresponds to the cornice height of the nearest building located at the corner. This volume contrasts with the rest of the tower, which houses the residential apartments."2
This is the basis for the "odd" perception I had. The gap between the two buildings gives the appearance of instability, completely unfounded I admit. Instead, this allows for the rooftop garden terrace as evident atop one of the retail spaces.
The design serves a pratical purpose, not for conspicuous shows of "look what I can do". According to the design philosophy by the architects and developer, subtantial efforts were made to ensure "green living" throughout the entirety of the building. For example, wind and sun direction, climate conditions, and even rainfall are taken into account. Nearby buildings are even considered in the collaborated design with city planners, "the residential floors curve outwards in four wide bays, which are staggered to allow daylight to reach neighbouring buildings and oriented to provide uninterrupted views of the landscape".3
However, perhaps one of the coolest features of this building:
Don't you want one of these (the garage, not the car)? Reminds me of back home in Asia.
It's luxurious, it's sleek, it's undoubtedly fantastic. It's also available.
There are currently 21 units available in the building including 2 penthouses.
The penthouses are multi-leveled and include its own rooftop garden terraces.
Luckily the lawsuit between the previous Korean developer, Argo Ventures Inc. and Bosa Properties Inc. didn't have a damaging affect on the completion of this project last year. Story here.
Congratulations Vancouver on making the shortlist this year!
Hopefully one of the many developments being constructed now will be considered in a few years.
Thanks to:
Council on Tall Buildings and Urban Habitat